Tobin Heath – US Soccer Team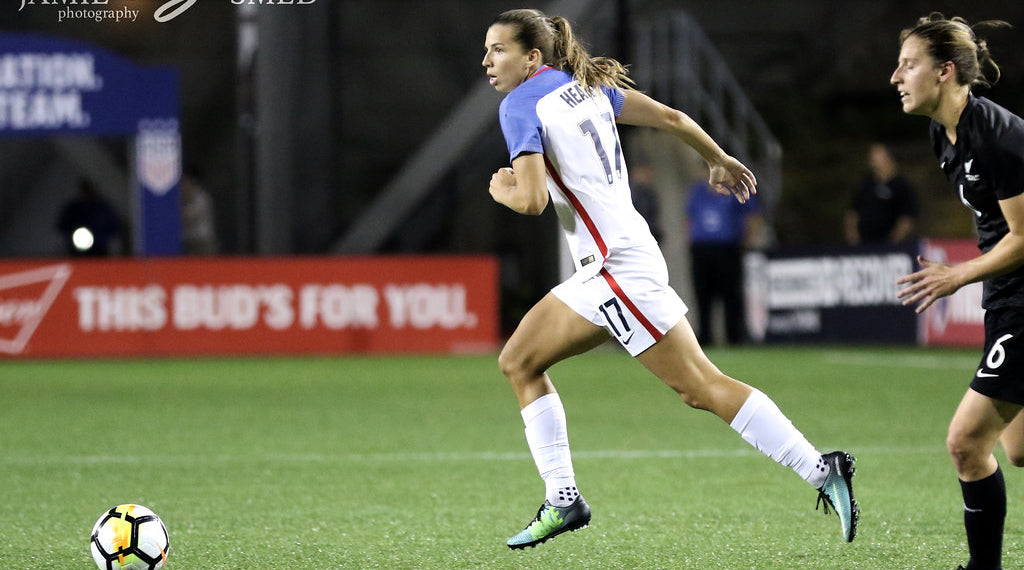 Tobin Heath plays the forward position and will be making an appearance for the U.S. Women's World Cup Team. Heath is a special player who is very exciting to see and playing at an extremely high level. The way how Tobin is so crafty and creative can be seen with her play on the field. Heath does this on a consistent basis which makes her amazing to watch, and something all fans will look forward to seeing throughout this World Cup run. 
Heath played for the North Carolina Tar Heels in college. There she was a M.A.C. Hermann Trophy semifinalist, First-Team NSCAA All-American, and lead UNC to the NCAA Division I Women's Soccer Championship in 2006, 2008, and 2009. From there, Tobin went on to be the 1st overall pick by the Atlanta Beat in the 2010 college draft. Heath went on to play for the New York Fury and Paris Saint-Germain. Tobin currently plays for the Portland Thorns.  There she won the championship in 2013 and was named NWSL Championship game Most Valuable Player. Heath also has had a very successful international career playing in the 2012 London Olympics, 2015 FIFA Women's World Cup, 2016 Rio Olympics and more.
Notable Career Highlights:
2018 NWSL Best XI selection
2016-17 Female Professional Athlete of the Year award at the Oregon Sports Awards
Earned 2016 NWSL Best XI
2012 London Olympic Gold Medalist
2008 Beijing Olympic Gold Medalist
References:
https://goheels.com/roster.aspx?rp_id=7870
https://www.ussoccer.com/players/h/tobin-heath
https://www.timbers.com/players/tobin-heath
https://www.teamusa.org/us-soccer/athletes/Tobin-Heath
Websites for more information:
https://www.youtube.com/watch?v=LAbLBQoBfag
https://www.inquirer.com/soccer/tobin-heath-us-womens-soccer-uswnt-portland-timbers-new-jersey-20190225.html